London is a large city packed full of attractions, sites and sights, almost regardless of your interests you could fill a day with things to do. Admission tickets, food, drink, travel, all these things can soon start to add up though so I've decided to try and help.
I've compiled a list of 50 things that cost nothing you can do in London, they range from a quick look at something to an entire day's adventure. 50 free things that you can mix in with your other plans or use to have a free London day out.
If you have anything free and awesome you think I've missed then let me know in the comments below.
1. The Sky Garden
One of London's great views and an amazing start to a free day. Entry is free but you need to book in advance, click for full details on this page here.
2. Visit City Hall
Open to the public for free from Monday-Friday you will only get to see a small part of this strange looking building. It's design is aimed to increase it's environmental impact and much of the cooling and heating is produced from it's normal working day. Full details on what you can see and do for free are here on the official website. Click Here.
3. Museums
Maybe a bit of a cheat answer as a great many of London's biggest and best museums are free, but the reality is you could easily spend a week heading out with packed lunches and exploring free museums, if you can walk there it truly could be a completely free day.
Highlights would include The Natural History Museum, The V&A, The Science Museum, The Museum Of London, The Museum Of London Docklands, Sir John Soane's Museum.
4. Art Galleries
Another way to enjoy a free week with ease if you enjoy art, many of London's best galleries include free admission much like the museums listed above.
Highlights once more for free galleries would include The Tate, The Tate Modern, The National Gallery, The National Portrait Gallery, The Wallace Collection.
5. Hampstead Heath
An escape from the city Hampstead Heath is an ancient park that includes an amazing, and protected vista from Parliament Hill. There are walks, seculded spots and even swimming pools if you visit on a nice warm day.
6. St Paul's Church
This is the church and not the cathedral which will charge you admission*, the church is free to visit. Completed in 1633 and known as the 'Actors Church' due to association with the nearby theatre district the church includes memorials to Charlie Chaplin, Noel Coward and Vivien Leigh among others inside.
It's situated next to Covent Garden and was the site of the world's first Punch and Judy show, hence the pub name in the locality.
*See the tip further down the page for St Paul's Cathedral
7. The Changing Of The Guard
Performed 10.30AM outside Buckingham Palace on Monday, Wednesday, Friday and Sunday this is a chance to get a free experience of pomp and pagaentry as soldiers kitted out in bearskin hats and dress uniforms exchange resonsibility for guarding the Royal residence.
Even on a week morning this is an event that can attract crowds so arrive early to ensure the best view.
8. Houses Of Parliament
Situated in Westminster and with the oldest part of the palace dating back to the 11th century the home of Big Ben allows residents and vistors to watch debates from the public gallery for free. Long queues can develop and it may not be worth banking on guaranteed entry but the area and buildings are interesting enough to spend some time even if you don't fancy queuing for free admission.
Access is via the Cromwell Green entrance and there are flight type restriction on bags that can be carried in.
9. Street Art
There are a number of places you will probably see street art in London but if you want to go seek some out then Shoreditch is probably the best place to go. By wandering along Brick Lane (itself a tourist attraction) and heading off into the side streets you should find plenty of street art to suit any taste.
There's plenty of art of all persuasions for free in London.
Spitafields Market is nearby and also well worth a wander if you're in the area.
10. Kensington Gardens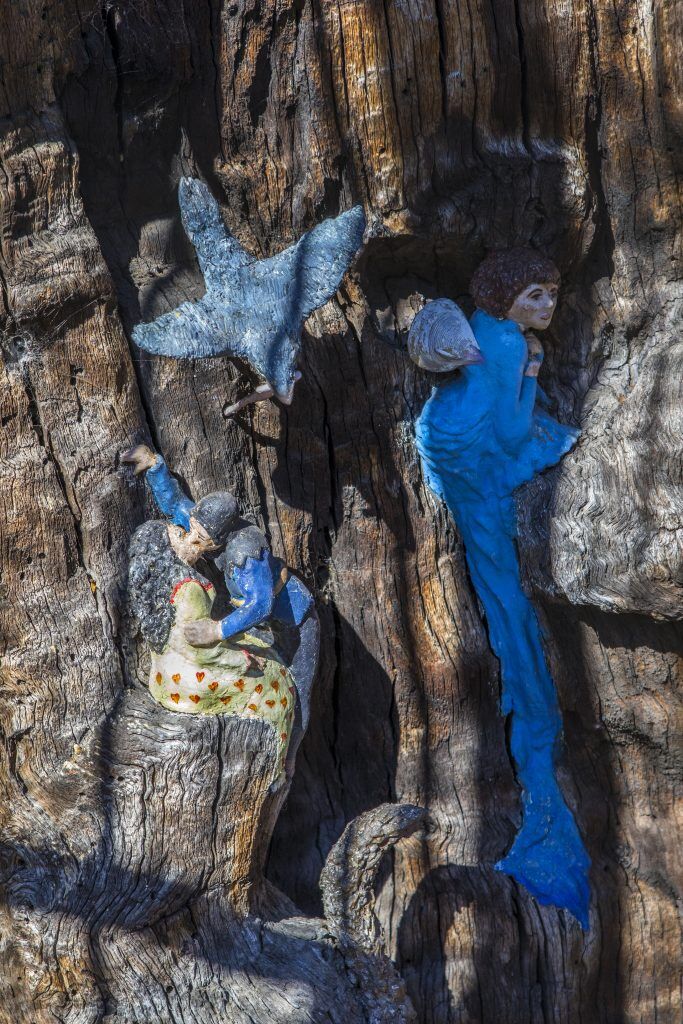 Beautiful lawns and tree lined avenues make up Kensington Park, free to enter like all the Royal Parks in London.
There is a large round pond to walk around, fountains in the Italian Gardens which are a cafe venue whilst the well know Peter Pan staue is in the other direction near the lake.
The Diana Princess Of Wales Memorial Playground is great fun for younger tourists, including a pirate ship and of course no visit should go without seeing the Elfin Oak, a 900 year old tree stump that is carved with small creatures, fairies, elves and the like.
11. Royal Opera House
Many don't realise but the RHA often has free lunchtime performances by either it's own or guest artists. Admission is free and unless it's changed it's a first come first served basis until capacity is full.
Recitals typically start at 1PM
Click here to see the programme.
12. The National Theatre
They're not offering free luchtime performances here I'm afraid, but if you enjoy theatre then this might be nearly as good.
If you enter via the Dorfman Theatre foyer and take the lift or stairs up to level 2 you will be able to get access to the Sherling walkway on any day bar Sunday.
So what is it? It's a high level walkway that is completely free to access and will allow you to look down on the backstage workshops at the National. You will see prop storage, sets being made and painted as well as get some information about what is going on and how a production goes through to finally appearing in front of a paid audience.
13. St Dunstan In The East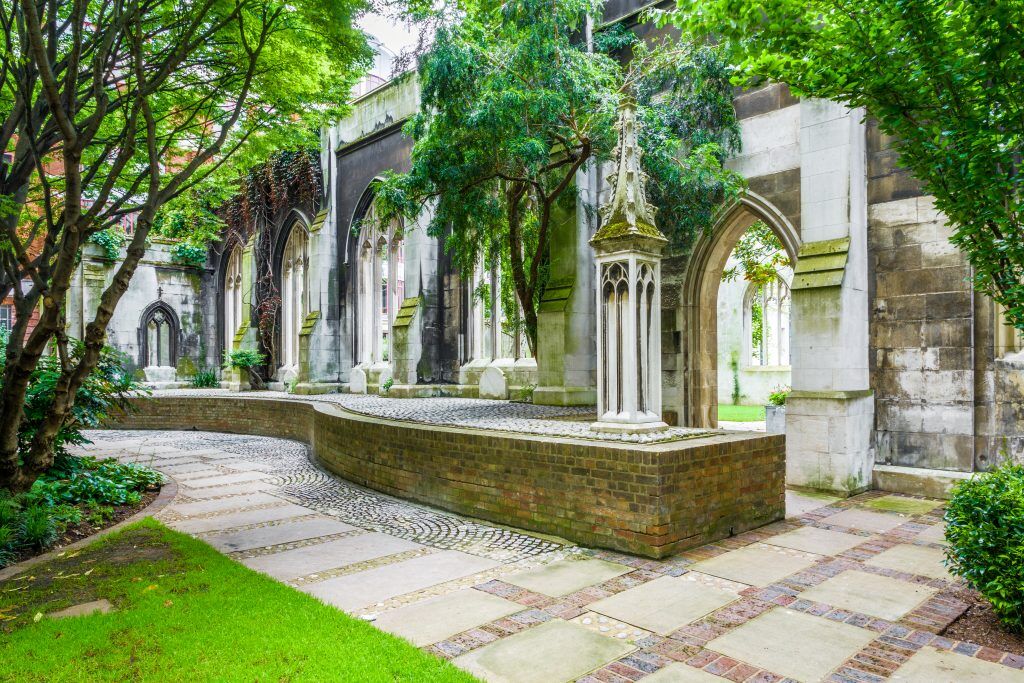 Having occupied the site for nearly a thousand years this Church has had a long and troubled past.
It was badly damaged by the great fire of London but managed to survive and even came away with a new tower built by Sir Chrstopher Wrenn.
Fast forward a few more centuries though and St Dunstan wasn't so lucky when hit by a German bomb during the Blitz.
The Church was abandoned until in 1967 it was turned into a park with the ruins forming a big part of it. A serene place to linger whilst the world of high finance goes on all around St Dunstan in the East is free to enter and the nearest tube station is Monument.
14. Top Secret Comedy Club
With performances from established names and those aiming to rise through the ranks the Top Secret Comedy club offers free admission for several performances every week, often it's for someone working through new a new set or gags.
Situated in Drury Lane click here to see what's currently on offer.
15. Leadenhall Market
OK, it's somewhere you go to buy stuff not get things free, and if you wanted to visit a market to buy stuff I'm not sure this would be top of the list, however, if you want see some old architecture, imagine being in 'olden days' London town or fancy getting a slice of Harry Potter into your day then you could do a lot worse than a walk through Leadenhall Market.
A 5 minute walk from Monument station why not combine it with a visit to St Dunstan in the East. A free morning sorted if you can tickets for nearby Skygarden too and take a look at London through the ages in three stops.
16. Gods Own Junkyard
Yep it's a shop, so yep you can buy stuff, and buying stuff costs money. Of course you don't buy something every time you walk into a shop and you don't have to here either, which makes it free.
Chris Bracey is a man who has made neon signs for all kinds of things, including Hollywood movies, lots of 'em.
He also has a warehouse stuffed full to the brim of neon signs that you can view and possibly buy should you wish to. Yes, some Hollywood options included.
Not an easy place to describe or categorise, I guess it's a weird and quirky neon light shop, the kind you find in every town?
Walthamstow Central is your nearest transport link.
17. St Paul's Cathedral
'Aha' you say, 'I have to pay to go inside St Paul's Cathedral'
Well yes you do, you're quite right, unless….
There is a choral evensong at St Paul's every evening, and guess what, you can go in and enjoy the service without paying a penny, not even a ha'penny.
Details on times are available if you click here.
18. Queen Elizabeth Olympic Park
The site of the 2012 Olympics is still mostly intact and you can wander the parkland, wander along the waterways, see some of the buildings used for Olympic competiton or visit the adventure playground, and guess what? Oh yes, it's free.
19. The Tower Of London
Another iconic venue that charges admission, however tickets to the centuries old cermony of the keys are free.
You can watch as the Tower is locked up at the end of the day but tickets go very fast, months in advance. If you want to try your luck at booking ahead then click here.
20. Primrose Hill
Close to Regent's Park and London Zoo, literally over the road in fact, Primrose Hill offers some great views across London from the top and is a favourite on New Year's Eve for that very reason.
Just above it is a pretty row of shops that are often used for filming TV and Movies. If you want a change of pace Camden and it's frenetic market is a short walk away.
21. Alexandra Palace
With close on 150 years of history the 'Ally Pally' has seen some historic events including hosting the first ever TV broadcast.
There's a mixture of things to do, including some paid but the gardens around are all free to enter and offer some stunning views of North London.
Nearest stations are Wood Green or Finsbury park.
22. Bookseller's Row
Situated just yards from Leicester Square, Cecil Court feels like it gives you a free trip back in time to Dicken's London.
Over 20 second hand bookshops trade from behind shop fronts that haven't changed in over a century and it's a fantastic place for any book lover to fill an hour just yards away from one of London's most frantic areas.
23. Roller Skating
Ok so you do need to be in posession of a pair of roller skates, but if you have a pair then there are a number of free events you can attend ranging froman easy skate in circles for beginners through to routes through the city complete with marshalls and sounds.
Click here or here for further information.
22. Free Workouts
Sweaty Betty offer some free workout classes if you fancy working off some of the steak and kidney pud you imbibed yesterday. Click here for further details.
23. Regent's Canal Walk
This could very easily constitute a day, and a great day too if it's dry and warm, check out this post here for more details, Regent's Canal
24. Kyoto Garden
Set In Holland Park, nearest station South Kensington, Kyoto Garden is a Japanese Garden built in 1992 to celebrate the Japanese festival.
A huge favourite with instagrammers it's free, serene and features peacocks and Koi in abundance.
One of London's best kept secrets and free to boot.
25. Barbican Conservatory
If ever there was a building in London that was hard to love then the Barbican has to be up there. It's brutalist architecture is one for the purists and almost certainly leaves every one else cold.
It does however conceal a hidden treasure aside from the Shakespearian lines being uttered within.
The conservatory is free to enter and contains over two thousand species of plants along with ponds, terrapins, koi carp and bridges.
It's the second biggest conservatory in London behind Kew Gardens and wouldn't look out of place there, it's also free to enter!
26. The British Library
Reading rooms and exhibitions, ideal for a quiet day or a rainy day the Brtish Library is free to enter and has over 150 million items to be read, dare them to say they're bored!
Kings Cross or Euston are your transport links, more details available if you click here
27. The Churchill Arms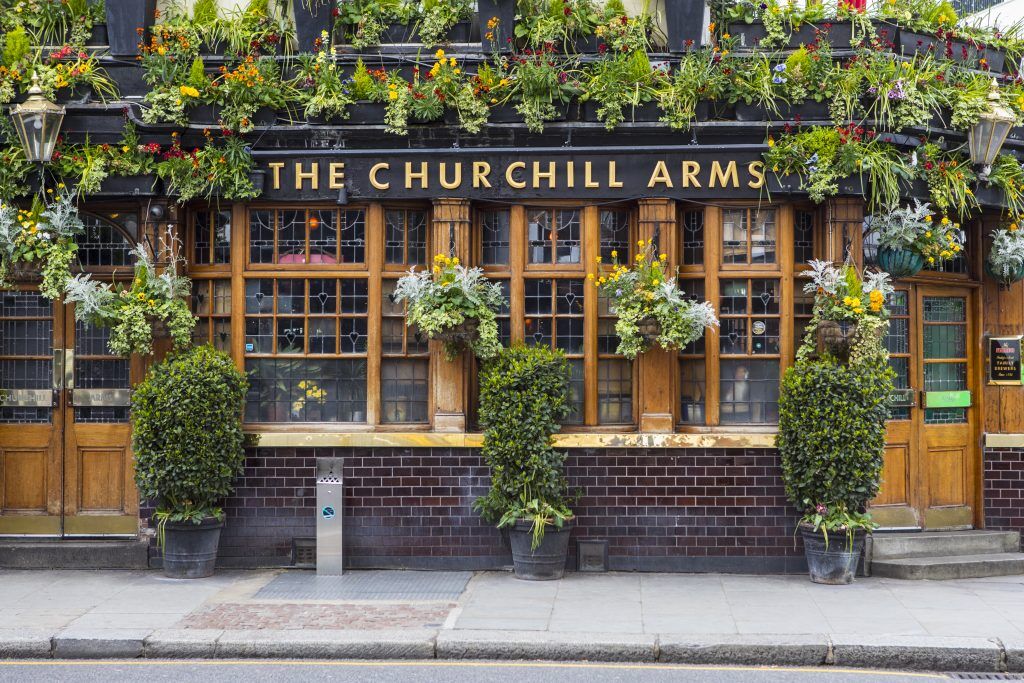 It's a pub and yes if you want to buy a drink it's going to cost you money but the main reason for coming here is free.
The Churchill Arms spend £25,000 a year on their exterior floral display and if you're visiting in spring or summer it's a sight to behold.
Inside there is lots of quirky and at times irreverent Churchill information and props but the star of the show is undoubtedly the horticultural display.
28. Mithraeum
Rediscovered in the 1950's and opened to the public in 2017 The Mithraeum is an ancient Roman temple that lay beneath the City of London for centuries.
The temple was founded circa 300 AD and is situated beneath Bloomberg's European HQ, you can visit for free and see the remains of the temple as well as plenty of information and displays about it.
As you'd expect you need to book in advance and tickets go fast, click here for further information and to book free tickets.
29. Gresham College
Attend a free lecture, dream about what may have been, what could be or maybe reminisce with a free college lecture.
Gresham College offers lectures for free, either in person or if you've missed one you wanted to hear via audio.
To book a free place and get more details click here.
30. Get a photo outside Downing Street
Actually unless you are a visiting dignitary you can't do that, but what you can do is head to 10 John Adam Street which is situated just off the Strand and grab a picture there. It's the spitting image and with a bit of careful framing few would know the difference.
It's free and it's fun.
31. London's Roman Amphitheatre
Another free Roman ruin, again situated in the City of London beneath corporate headquarters and banks.
Nearly 2000 years old the Amphitheatre was rediscovered during an archeology dig in 1988 prior to the new art gallery being built.
Bank is your nearest station and Guildhall Art Gallery is where you want to head.
32. Freemasons' Hall
The centre for Freemasonry in Great Britain and the oldest Grand Lodge in the world Freemasons' Hall offers up to five free tours a day.
Roll up one trouser leg and click here for more details on the free tours.
33. Guildhall Great Hall
Located at the same spot as the amphitheatre listed above the Guildhall dates from 1411 and is London's only secular stone structure dating from before 1666 which is still standing in the City.
It has been the setting for State trials, including that of Lady Jane Grey and it's believed there was probably a guild hall on the site before this one.
Entry is free and you can click here for more details.
34. The House Of MinaLima
34 posts in before you get 'Pottered'
The House Of MinaLima is owned by two designers who worked on most (could be all) of the Harry Potter films and are now working on the Fantastic Beasts series.
Their shop is bursting with memorabillia from the films, artwork, print, books and other objects.
Of course you can buy stuff, which would mean that this isn't strictly free, you can also have a mooch which would make this a free attraction.
Located on Greek Street, Leicester Square is your nearest tube stop, click here for the website.
35. Ragged School Museum
Open and free to enter on Wednesdays and Thursdays from 10-17.00 the Ragged School Museum is based in a warehouse and offers insight into living in London's East End from the 1880's to 1900.
There's a reconstructed Victorian classroom to look at and a changing programme of exhibitions and activities.
Situated in Copperfield Road next to Mile End Park the warehouses along here housed Barnado's largest school for poor children.
36. The Anaesthesia Museum
The museum houses over 2000 objects related to anaestesia and pain relief dating back to 1774 and charts their use and progress.
Entrance is free and you can find the museum at 21 Portland Place, a short walk from either Regent's Park or Oxford Circus tube stations.
37. Colombia Road Flower Market
Close to Brick Lane and Spitalfields Colombia Road has a flower market every Sunday morning.
The road itself is full of cute and quaint shops that blend into the background when over 60 stalls selling fresh plants and flowers roll in every Sunday.
38. Free Guided Walk
Many of the Royal Parks offer free guided walks in London, you just need to know where and when to be.
Click here to see upcoming free guided walks and other free events in London's Royal Parks.
39. Walk under the Thames
Close to the Cutty Sark and it's associated tube station is the Greenwich foot tunnel. Opened in 1902 it will take you around 10 minutes to walk across the river to the Isle Of Dogs, and about the same to walk back unless you want to catch a tube on this side of the river.
There is a City Farm with free entry on the Isle Of Dogs, so that's a little bonus I've slipped in.
40. Meet Churchill and Roosevelt
Well statues of them anyway. The two cast in bronze share a bench on New Bond Street and were placed there to mark 50 years of peace since the seccond world war. The sculpture is entitled 'Allies'.
You can join them for a photo opportunity should you wish, there is space between them for someone to slip into.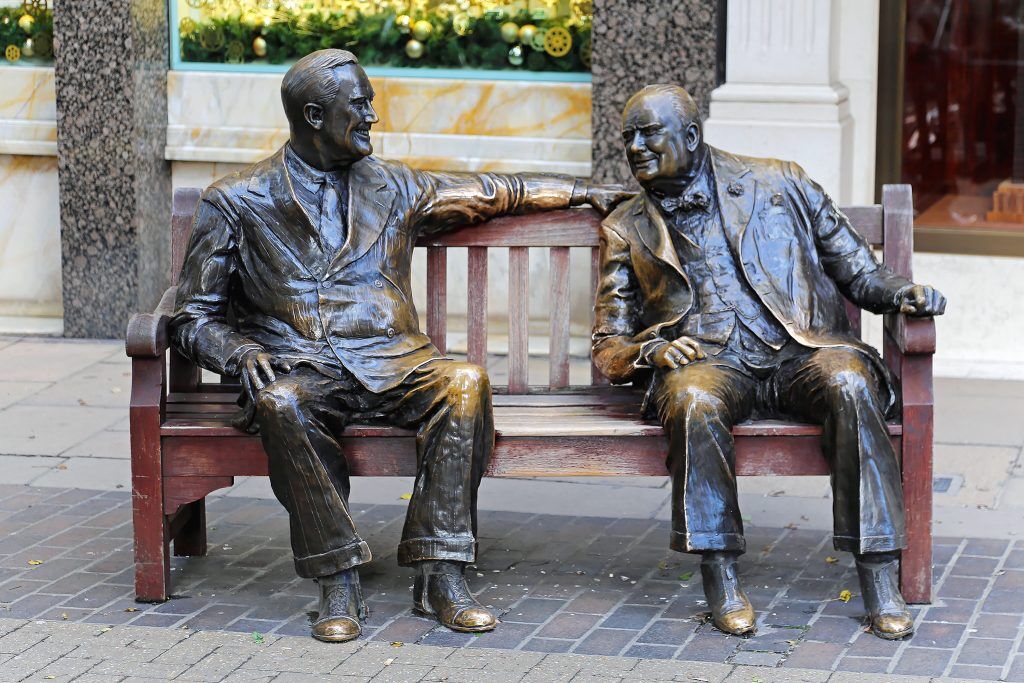 41. Look for a nose
In 1997 artist Rick Buckley as a protest against the growing use and coverage of CCTV cameras in Britain and London especially decided to make his own protest.
He made plaster casts of his own nose and then attached them to buildings across the capital, painting them to match the wall they were attached to.
All of this was done with no publicity what so ever, and over time myths grew up surrounding them. There were said to be seven noses in Soho and that to find them all would bring good luck.
Another nose on the inside od Admiralty arch was said to mock Napolean and that members of the calvarly would tweak it as they passed through.
It's thought that 35 noses were originally attached across London but nobody knows how many, if any are still attached. You can look online for maps of their locations or just keep your eyes peeled, you might get lucky!
42. The Bank Of England Museum
A museum about money, the making of money in a literal sense, pick up a gold bar whilst standing above a large gold store, find out how to make paper money difficult to copy.
Interesting and informative the museum shares it home with th Bank Of England in Bartholomew Lane and nearest tube stops are unsurprisingly Bank or Cannon Street.
Entrance is free, click here for the official website.
43. Wilton's Music Hall
One of my favourite venues that is described in more depth if you click here for the post.
You can go and visit, have a wander and look round the oldest music hall for free, if you do want to spend a little bit then buy a drink and soak up the ambience.
However, the reason I have listed Wilton's is because they do occasionally offer free performances, you will need to keep an eye on their website which you can reach by clicking here.
44. Hampstead Stargazing
Close to Whitestone Pond on Hampstead Heath is Hampstead Observatory located on a grassy underground reservoire on one of the highest points in London.
Entance is free, though donations are gratefully recieved to assist with running costs, and you can go and look through a telescope in the company of a controller and assistant who will show you things of interest and answer any questions you might have.
The website is here with instructions on how to find the observatory and what to expect. Click here for details.
45. The Southbank Centre
Whilst you may be shocked to learn the Southbank Centre is on the South Bank, you won't hopefully be shocked by now to learn that they do free stuff.
From installations to performances there is nearly always free things mixed in amongst the paid stuff and if you click here for their events calendar you can see if anything free tickles your fancy.
46. Go Batty
The London Bat group offer walks to the public during the summer month where you will get the chance to learn about and probably see some bats.
Their upcoming events can be seen if you click here.
47. The Scoop
In the shadow of Tower Bridge on the South side of the Thames sits the Scoop. This open air amphitheatre offers free performances through the summer months including theatre, film and sports screenings.
It fills up quickly and seating is limited so make sure you arrive early if you want to catch an event.
Click here for further details
48. BFI Mediatheque
The British Film Institute has the largest repository of film archives in the world.
The Mediatheque centre on the Southbank is free to enter and has a large collection of films and TV available to show.
Complete details available on the BFI website if you click here.
49. Highgate Cemetery
An atmospheric place with around 170,000 people buried here Highgate Cemetery is best reached from the Archway tube station.
Full information can be seen by clicking here to visit the official website.
Among the famous buried here are Karl Marx, George Eliot, Douglas Adams, George Michael, Malcom McLaren, Lucian Freud, Jean Simmons, Anthony Shaffer and many, many more.
It's a humbling and intriguing place to wander, parts of the cemetery can be challenging for anybody not so steady on their feet.
50. The Vault
Not far from Green Park tube station is Old Park Lane, on the corner of Old Park Lane is the Hard Rock Cafe.
Yes, it's a well known chain I know, but bear with me. The building used to be a bank, in fact the myth is that the vault you are looking for was the Queen's vault and the place Princess Diana tried on her wedding dress.
If you enter the busy shop you should see some stairs, these go down to the vault. If you speak to a member of staff they will advise you of a guided tour of the vault, and what's in the vault you ask?
Rock memorabillia of course, if you visit you will see guitars that were owned by David Bowie, Bob Dylan, Jimi Hendrix, Jeff Beck and others. A Beatles piano, suits, stage outfits and many more authentic items.
It is free, but you do have to ask and may have to wait a little while for a member of staff to take you down.
So that's 50, tell me what I missed in the comments and I'll look at adding another list at some point. I have tried to give a nice variety without going down the easy route and listing 20 free museums, 20 free galleries and padding it out with a few more things.