11 sites to see in London that are part of it's musical history
London has a rich history when it comes to rock and pop music and many tourists enjoy seeking out spots from album covers or famous photos. Of course there are also homes and venues that can be seen and in some cases visited.
Abbey Road
Not really requiring any further description the site of the Beatles' zebra crossing image is still there and easily spotted normally due to the number of tourists ateempting to recreate the photo.
Your nearest station would be St John's Wood and it's a short walk the other side of the Finchley Road from here.
23 Heddon Street
The spot where Ziggy Stardust was born and the spot that Bowie, alledgedly under the affects of a bad case of the 'flu posed with guitar slung over one shoulder for what what become an iconic album cover.
The spot is just off Regent's Street and is marked now by a black and white plaque.
Of course there is more Bowie to be found, there's a memorial to the great man in Briton which comprises of a mural close to his childhood home of 40 Stansfield Road Brixton. He also lived for a time at 39 Manchester Street from where he was said to be a regular visitor to the Toy Museum.
23 Brook St
Now open as a museum this was the home of Jimi Hendrix and fans can now go on a tour round the property. Next door incidentally was the home of German born composer Handel and this is also open to the public.
Hendrix was known to stay at The Cumberland Hotel in the West End, once a favoured haunt of touring musicians and this is listed as his address on his death certificate.
Since 2010, the 40th anniversary of Jimi Hendrix's death you've been able to rent a phsycodelic 60's themed Jimi Hendrix suite here.
34 Montagu Square
Just over a mile from Abbey Road and situated in Marylebone is a property that was once owned by Ringo Starr and where Joh Lennon first lived with Yoko Ono.
The history doesn't stop there though, Paul Mccartney recorded a demo of Eleanour Rigby in the basement, Ringo was busted here for drugs and then later rented the property to Jimi Hendrix before evicting him four months later for trashing the place.
If walls could talk.
Berwick Street, Soho
Supposedly chosen because of the number of record shops that lined it this was the image on the Oasis album (What's the story) Morning Glory ?
Again pipular with tourists looking to recreate the cover.
The Good Mixer, Camden
Always a popular haunt for musicians it's seen the like of Pulp and Pete Doherty, the Blur and Oasis spat alledgedly began here and it was Amy Winehouse's haunt to play pool with a drink.
Carnaby Street
World famous in the 60's and 70's for it's clientelle and fashion, whilst it's almost certainly a shadow of what it was and probably trades off it's past glories it's still a fun place to visit.
Nearby, the The Marquee Club at 90 Wardour Street saw performances from the likes of Bowie, The Stones, Pink Floyd and Led Zeppelin.
Flat 9, 12 Curzon Place, Mayfair
Possibly best avoided if you hppen to be a rock star, both Mamas and Papas singer Cass Elliot and Keith Moon both met their ends here four years apart.
The Hope And Anchor, Islington
A pub that has seen performances from Dire Straits, The Cure, U2, Joy Division and The Stranglers.
Nutty Boys, Madness filmed at least one video here.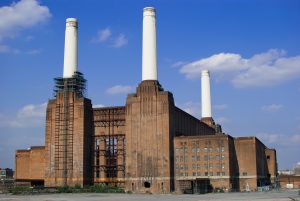 Battersea Power Station
Currently undergoing a very expensive renovation and visible from many places nearby this was of course on the cover of Pink Floyd's Animals LP
The Troubador, Earl's Court
Having seen sets from Bob Dylan, Paul Simon, Jimi Hendrix and Robert Plant this is another iconic London venue.
Live acts still appear and you can eat, drink and listen though booking a table is highly recommended.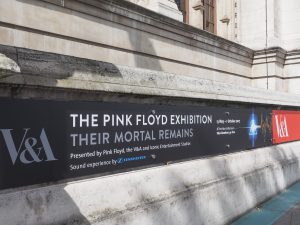 The V&A
A museum may seen an odd choice, but the V&A does include some rock memorabilia within it's collection and in recent years has had exhibitions featuring acts like Bowie and Pink Floyd.